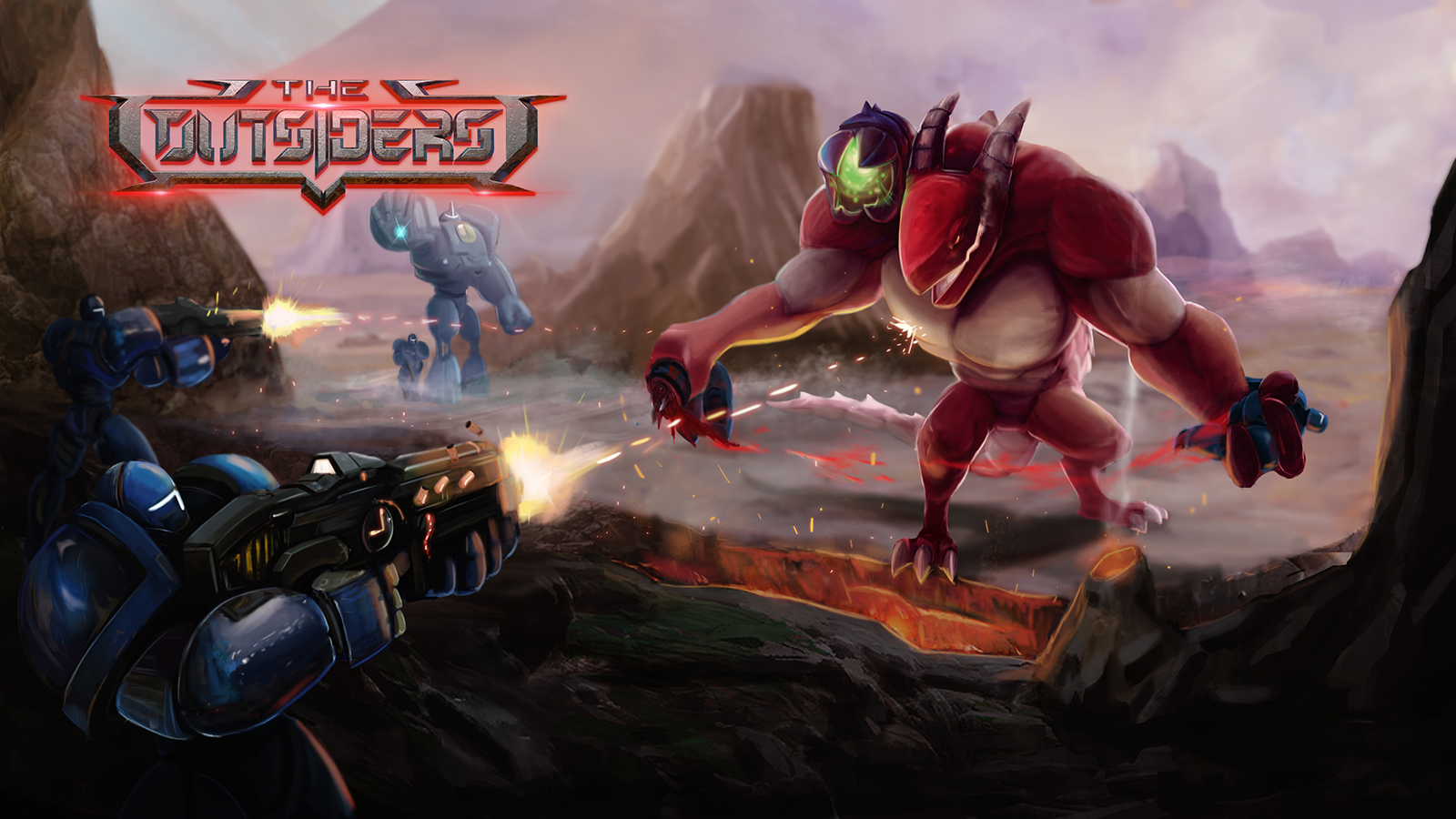 The Outsiders - Open Beta
A downloadable game for Windows
IMPORTANTE NOTE: Please download the game via the itch app, that way the game will be automatically updated and you won't have to download the .zip every time an update comes out. Follow the link https://itch.io/app and get the windows app! =D
---------
Hi there!
We are Daisu Games, a small game studio from Brazil, and this is our newest title, The Outsiders.
The Outsiders is a top-down survival shooter where you play as the Alien Boss defending your planet against human invasion. Fight human soldiers, giant mechs and more! But this time, YOU are the biggest badass on screen. NOTHING is bigger than you.
Challenge yourself, learn how to survive longer, crash as much humans as you can and level up your Boss Badge and your ranking on the world leaderboard! [these features are in development and will be soon updated]
The current version is the Open Beta. We are still in full development and will bring you more and exciting new features over time. If you play the game, you will be with us, together in developing and improving The Outsiders! We are collecting your feedback to make the game even better until final release on itch and Steam.
What you get with the Open Beta
Play as THE BOSS slaughtering human soldiers and robots
Endless gameplay: kill, survive, die, repeat
Beat on your score
3 different and unique weapons, including acid blasts and spikes
A Powerful Boss Skill that leaves NO ONE standing [more skills soon]
Heavy metal soundtracks by Paulo Germano to spice things up
FREE ACCESS to Final Release on Steam and ALL future updates
50% Special Beta Discount on game price
Access to our Discord Community: help us improve the game! [soon]
What you get with Final Release and Updates
3+ Random Levels to explore different strategies
3+ Unique Boss Characters to choose
8+ unique human enemies (soldiers, vehicles, robots, airships)
World Leaderboard for you to show all your awesomeness
Boss Badges and Levels
Achievements to earn bonuses and new challenges
- OPEN BETA special price: 50% OFF -
While in Open Beta, the game will be 50% OFF on itch.io and you get the Final Release on Steam FOR FREE.
If you have already played the game, please take 5 minutes and give us your honest feedback on your impressions by following the form below. This will help us IMMENSILY on improving the game for you guys!
https://goo.gl/forms/RVz7irMI5VL3BDrO2
Also, follow us on Twitter for more and constant news and updates! We are very active there and want to reach our community each day better.
https://twitter.com/DaisuGames
If you have any business inquiries or would simply like to get in touch, email us at harry@daisu.games. Harry is our Game Designer and Director. Say hello!
Once more, we'd like to thank you for being part of this journey. It means the world to us indie developers. So, without further ado... LETS KILL'EM ALL!
- Daisu Team
---------
IMPORTANTE NOTE: Please download the game via the itch app, that way the game will be automatically updated and you won't have to download the .zip every time an update comes out. Follow the link https://itch.io/app and get the windows app! =D
Purchase
In order to download this game you must purchase it at or above the minimum price of $3 USD. You will get access to the following files:
theoutsiders-windows-beta.zip
140 MB
Comments
Log in with itch.io to leave a comment.
When will this game be released to Steam my good boys?
-SSC
Soon enough! We don't have a release date yet, we're polishing it and adding new features before submitting to Steam. But it's awesome that you are looking for it!
Thanks a lot my friend! We'll keep you guys updated =)
Good job allowing you to take damage, but I tried this game again and now the damage stops at like 10% of my health bar filled and i'm invincible after that and take no more damage, so I never die. So the same thing... God mode. Zzzzz.
Hehe, I WANT TO DIE darn it! ;-)
Hey Zaxtor!
Thanks again so much on the feedack. I apologize because we actually haven't uploaded it yet as we were fixing some other bugs. We have fixed the health issue and will upload it today. If you haven't already, get the itch app because from there the game will always be up-to-date without you having to re-download =)
The challenge is coming! More enemies, better progression, we're working on it all =)
Thanks for the feeback!
Zaxtor!
We have just updated the game. If you can and wish, please test it again, the health issue should be fixed by now, as well as some other adjustments. You can see the corrections on the devlog. If you don't see the update yet, try restarting your itch client.
Thank you!
Awesome game, graphics and mechanic. Very fun and caught my interest, have the potential to be addicting.
Some thing I did notice:
- Some enemies start shoot you before appear on the screen, making it impossible to kill them.
- Sometimes the items drop too close to the edge of the screen and I was unable to pick it up.
- Item drop RNG sometimes don't drop an item even with 20000 score which is a long time without items, I felt that way.
- I did notice the mosnter fire rate control when you hold fire button, but when you click fast you can get a bigger fire rate, didn't test with some 'turbo click' tool, but maybe very high fire rate can be possible.
- Theres a god mode bug that is activated shooting and pressing '1' simultaneusly quickly when the special bar is full. Maybe don`t activate this way but I hope this is a clue to what is happening. Critical bug.
- After 130k points I did notice a terrible FPS drop at 165k was literally unplayable. Its critical.
Awesome game. Looking forward to final release
Nice! Thanks a lot kaiz0, your feedback was very important! Some issues we are aware of, like the FPS drop, but some were also key and we will promptly resolve them.
We are very very glad you enjoyed the game! Being still in beta, lots will change until final version on Steam and itch (keep in mind that you and everyone who bought the beta are already guaranteed to the final release =D )
The next few days we should have all or most of these issues resolved. We'll post a devlog for clarification.
Thank you so much! o/
I like the graphics and gameplay but two things...
1) You cannot die! Ugh, nothing makes a game more boring than having absolutely ZERO challenge. Zzzzz. Please fix this ASAP!
2) Only ONE map, only two mobs to kill that I've seen with a 3 different power-up attacks. It needs more.. Hopefully more content is planned and since it's early in development this is very understandable. The God mode never dying or taking damage however needs fixed ASAP as I stated in point #1
Hey Zaxtor!
Thanks a lot for reporting these things! This Health bug were reported more than once but oddly enough it didn't appear in our testings. We will fix this no longer than tomorrow! Thanks again. Please report if you find more bugs like that, those will be fixed in no-time =).
Did the health bug appear every match or just some of them?
Regarding content, yeah, will have a bunch of things planned, some are already implemented but not very balanced, so we are adding them over time. Did you download through the itch windows client? That way the game will automatically update, which is very handy, we'll be updating probably on a daily basis.
Thanks a lot! Feel free to report or ask us anything at all.